IEVA GABRIEL BELE
/ Senior Yoga Trainer
Biography
Ieva has over 17 year experience in Yoga, working as a yoga teacher with adults and children, both live & online,  group & private yoga sessions.
Previously IEVA has studied Business and Economics. She was professional international model for over 17 years, however Ieva felt huge affinity for her hoby – yoga. Ieva dropped her modelling carrier and finished Ashtanga Vinyasa and Yin yoga teacher training courses in Goa Sampoorna Yoga Teachers school. Also Sri Sri adult & children Yoga Teacher courses in the Art of Living centre, Bangalore. Currently Ieva is 100% dedicated to yoga, doing online group and private sessions. Ieva is very happy to spread positive yoga vibrations and joy to other people worldwide.
Yoga competences: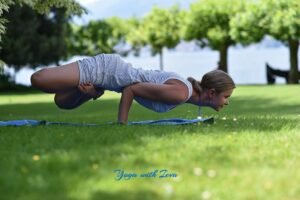 Ashtanga Vinyasa
Sri Sri / Hatha yoga
Yin yoga
Restorative yoga
Prenatal & Postnatal yoga
Face yoga
Pair/Couples yoga
Children yoga
Ieva is teaching traditional yoga, which combines body, breath and mind into a harmonious whole, cultivating human consciousness.
During the lesson, asanas, pranayama – yoga breathing techniques – and yoga nidra – yoga relaxation or meditation are performed, depending on the client's wishes or the class. During the session, special attention is paid to the accuracy of movements and the implementation of the needs of the clients.
The teacher likes to combine different yoga styles according to the needs of the customers. This is a great lesson for participants of all ages – whether you are five or 99 years old. Due to the slow and safe movements, yoga is especially suitable for pregnant women.
Skill